Overall Rating: 4.4//5
Getresponse is one of the best email marketing tools for enterpriners, business owners and affiliate marketers. It has a free plan as well as a paid plan, can start with a free plan. Services such as email marketing, autoresponder, webinar, landing page, and many other options are provided by gerresponse. It has a great online marketing feature that helps to start the business for free and then they can upgrade the plan in reasonable price as compare to other email marketing companies. The best part is that you can join getresponse without credit card. Read the getresponse review below.
Getresponse Free Trial
In this article, I am going to review the amazing email marketing tool getresponse. I will share about the features, whether this is good for you or not, and my experience with getresponse.
Things you are going to learn in this article about getresponse
What is Getresponse?
Features of getresponse
Getresponse price and plans
Pros and cons of getresponse
I am sure that after reading this article you will not have any doubt related to getresponse.
I'm going to explain each and everything related to getresponse so read the article till the end.
What is getresponse?
Getresponse is an email marketing tool to create email list and send emails to multiple subscribers.
It will help to send offere and services to your subscribers directly to their inbox.
It has a lot of other marketing features so we can call it a complete online marketing solution for any business.
With getresponse, you can create an email list, send mails to subscribers, setup autoresponder, email marketing, create sales funnel, lead magnet funnel, webinar, and create landing page, signup forms, and many other tasks.
So it's an all in one marketing solution.
Getresponse Features and why this tool is very helpful
I'm using Getresponse from past one years and I'm very impressed with the getresponse feature. When it comes to email marketing there are different ways in which you can use them. I have joined the free plan of 30 days with 1000 subscribers.
I created my email list and autoresponse emails, so once anyone subscribe using their email autoresponse email sequence automatically starts. I dont have to do anything. Its a one time job to setup the email sequence in for autoresponse.
Must-have marketing tools for 2022
Here are features that you can use using the getresponse app:
Email marketing:
You can create beautiful and engaging emails for your subscribers and send it to them.
There is an email builder tool that helps to create beautiful and engaging emails.
The email marketing tool provides email templates that are easy to design using drag and drop.
Using email templates you can easily create your email within few minutes.
You can customize your email by add images, videos, buttons, and various elements.
Autoresponder:
This is a very powerful feature you can schedule multiple emails and just relax.
Create a set of emails and schedule the timings and date so emails will be triggered at the scheduled time and date.
Using your landing page you might have got the subscribers, now using the autoresponder feature you can send those series of emails.
You can send a sequence of emails to your new subscribers and build a relationship with them and educate them. You can send then email follow up sequence about your product and services.
Marketing Automation:
Apart from automation getresponse also provide and an advanced level of email automation which is called marketing automation.
In this feature getresponse allow you to create an automation workflow.
You can create a workflow using drag and drop for specific actions.
For example, if a subscriber opens an email and clicks the link then what is the next action same way if a subscriber doesn't click the offer then what's the next action.
Email Marketing + Landing Pages + Marketing Automation – $49 only
See how autoresponder workflow works in below video: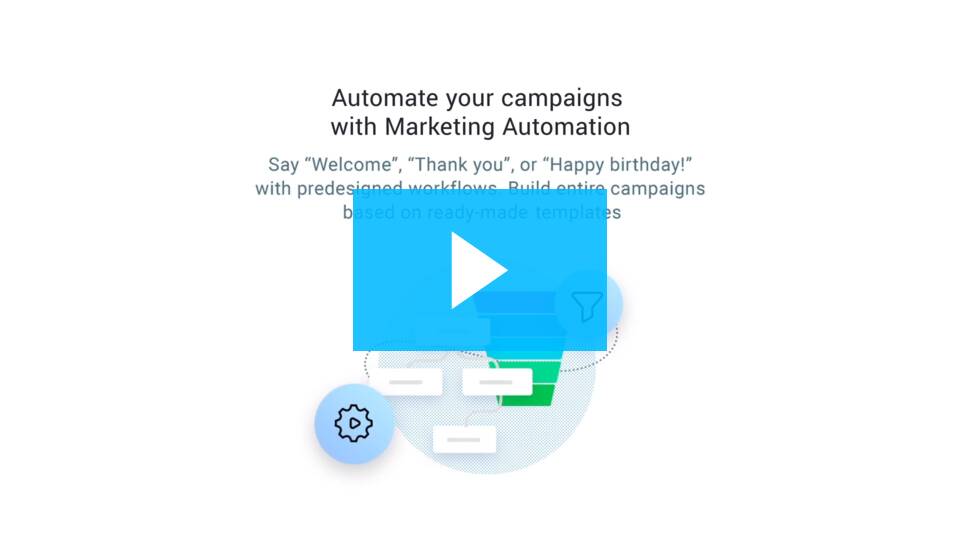 List management:
You can also do email list management. It means that you can create multiple lists of email id. It is meant for the people who are using this tool for more than 1 website with a different niche.
This tool enables you to categorize them and send different emails to each of the lists. You can organize the contacts in different lists and send them personalized emails based on the category.
Get responder helps you to connect with CRM tools such as zoho, salesforce, google contacts, and zendesk to keep the contact list up-to-date.
Conversion funnel:
Getresponse introduced this new feature recently this will help users to do eCommerce marketing within getresponse.
You can perform tasks such as integrate with your shops and promote products. Lot of things you can do using getresponse:
Integrate with the shop
Create your catalog
Create landing pages
Abandoned carts
List building
Process the payment easily
Automate the purchase follow-ups
Landing pages:
If you are willing to promote your product, Clickbank product, or something like that by creating some landing pages.
It is very easy to create landing pages in getresponse within few clicks you can create a landing page.
You can create amazing landing pages using getresponse which converts well and leads to sales.
There is a lot of templates and features which help you to create good landing pages.
You can create forms, popups, countdown timers, webinars, eCommerce pages, and Facebook ads.
Image
Webinar marketing:
Webinar marketing is the most profitable thing for which email marketing software is used.
The integrated webinar software is helping to increase conversion.
You can do webinar hosting, get up to 1000 live members, share the screen with multiple people, and store the webinar session.
There is a whiteboard for explaining to the audience during the session and polls and survey available to collect useful data of the session.
Sell knowledge online with this Step-by-Step-Guide
Paid Ads:
There is a paid ad feature that helps to reach out to new customers and grow your business.
You can create a Facebook ad in getresponse and start a campaign on Facebook and Instagram to grow your email list.
You can retarget the subscribers, create a brand on Instagram, get more visitors to your page, and get more customers from ads.
So these were some main features that you will get with getresponse.
It looks like an email marketing tool but it is more of a digital marketing complete solution.
Getresponse Pricing and Plans:
Now let's talk about the getresponse pricing model. All the email marketing software price increases as more subscribers added to the list.
For a beginner, the Basic plan is best to start. It includes 30 days of free trial with 1000 subscribers.
Also, this plan includes other features of getresponse.
So if you are just starting email marketing then go for this plan.
The free plan is for 1 month after that you can upgrade it for $15 and once you grow your list to more than 1000 subscribers you can go for an advance plan.
The best part is that there is no credit card required to register for the trial version.
Getresponse Free Trial
(no credit card required)
Getresponse Plans
Basic: It costs $15 per month and you can send unlimited emails to 1000 subscribers.
Plus: It includes everything of basic plan and additional features such as 5 automation workflow etc.
Professional: It includes everything of plus plan and additional features such as unlimited automation workflow etc.
Max: This is a personalized and flexible plan for big businesses. You can get a quote from getresponse based on your requirement.
For all the plans 1000 is the list limit. The price will increase if you want to increase the list count. List is available for 2500, 5000, 10000, 25000, 50000 and 100000.
For example, for 5000 list basic plan costs $45, plus plan costs $79 and professional plan costs $139.
Getresponse Pros and cons:
Getresponse is one of the best email marketing tools available in the market. Let's see some pros and cons of getresponse
Pros
Getresponse has a clean and super simple dashboard with icons which is very easy to operate.
You will get a full report of your email performance. You can also experiment with your email and find out which one is working for you.
You can customize your template according to your choice for your emails. There are some amazing templates available and you can also customize them.
You can do unlimited automation with one click though it is profitable to have a high-value pack for email automation.
Advance feature such as automation workflow is very effective to grow the business.
It can integrate with google analytics, Facebook, and CRM tools.
You can create a webinar.
Cons
The drag and drop feature can be smoother.
Landing page templated can be more engaging with the latest market trend.
Conclusion (Worth or not)
Before buying any email marketing software read this getresponse review, this will explain each and every aspects of getresponse. Email marketing will take your business to next level. There are so many email marketing software available in the market such as AWeber, Mailchimp, constant contact, Hubspot, mailer lite, etc. Do a proper research before buying any email marketing software as you have to pay the charges every month. Getresponse is one of the best email marketing tools which include all the features for free in the trial version.
If anybody of you is interested to get a free trial of getresponse then, you can click here.
Disclaimer: It is my affiliate link and if you make any purchase through this link then, I will get some commission for it.
Thank you for reading, if you are interested to read more such articles then stay tuned to our website.
Which email marketing tool you are using? write in below comment box.
Getresponse Free Trial
Don't forget to Subscribe to our RSS feed, Like us on Facebook, or Follow us on Twitter!"
Related Posts: